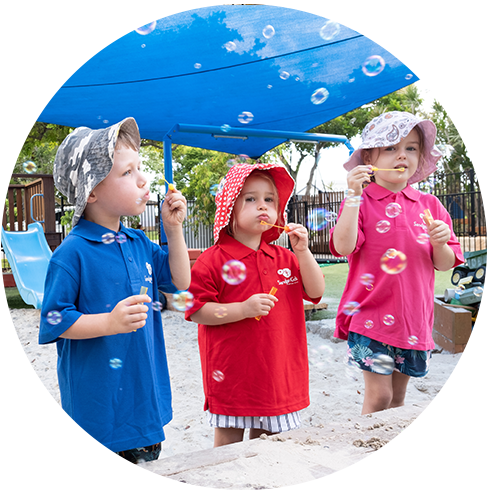 Our Centre
At Sandgate Kids Brighton Road, we build our programs with the belief that children learn through play, exploring the world around them and finding their own place in it.
Our program includes the opportunity for a combination of self-initiated and planning experiences.
Our play-based curriculum is developed using the Early Years Learning Framework (EYLF) which is founded on the same belief – children learn through play.
Our programs are well-structured and flexible enough to manage the developmental levels and interests of each child.
No child goes hungry, here! Every day our children are given delicious and nutritious meals prepared by our own, in-house cook. This means we can continually monitor the food quality and variety and we can easily cater for children with special dietary needs.
Our centre is open from 6.30am to 6pm each weekday.
Our Rooms
Our centre is structured to provide age/stage appropriate environments. We have five rooms and an educator to child ratio which lets us provide truly individual care for our children.
KOALA ROOM
(NURSERY)
6 weeks to 15 months
(4 placements)
1 Educator:
4 children
WOMBAT ROOM
(TODDLER)
15 months to 2 years
(10 placements)
1 Educator:
4 children
POSSUM ROOM
(JUNIOR KINDY)
2.5 years to 4 years
(18 placements)
1 Educator: 11
(3-year olds)
1 Educator: 5
(2-year olds)
KINGFISHER ROOM
(KINDY)
3.5 years to 6 years
(22 placements)
1 Educator:
11 children
Why play is important
We realise how important it is to encourage children to play. It's not just about fun; it's about learning. Through play, we can give our children some lifelong skills such as learning to play nicely with others, wait their turn, and negotiate with their peers.
These skills are the foundation of a healthy, happy and productive life.
Research shows that play is an integral part of a child's growth and development.
Enhances a child's dexterity
Promotes social skills
Sharpens cognitive and language skills
Encourages spatial understanding
Develops cause and effect reasoning
Clarifies pretend and real
Enriches sensory and aesthetic appreciation
Extends attention span, play persistence and self- mastery
Helps to release emotions
Let's talk about what you want for your child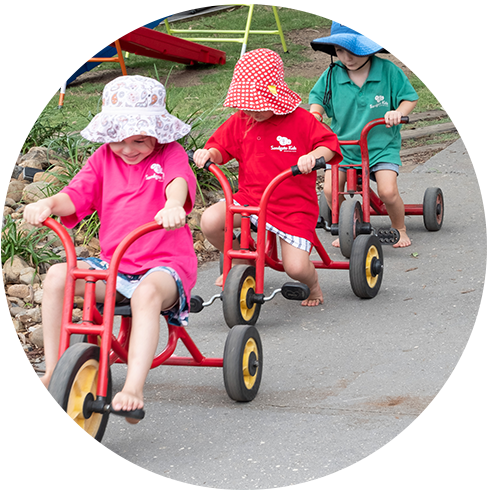 Why choose Sandgate Kids Brighton Road?
All educators are fully qualified with current First Aid, Anaphylaxis and Asthma certificates
We have a wonderful outdoor area which provides the children with many opportunities to explore and play.
We have a vegetable garden where the children grow food for the Centre's kitchen.
We are a Sun Smart Centre.
We are members of Nutrition Australia
Our centre is fully air-conditioned.